SAMHAIN CELEBRATION WITH ANNIE ROCCHIO
This is a guest post from Annie Rocchio of
, who I am excited to have as one of our new members of The Bohemian Collective. Her amazing jewelry will be featured in our new lookbook that comes out on the 13th, just 4 days away! Thank you Ann!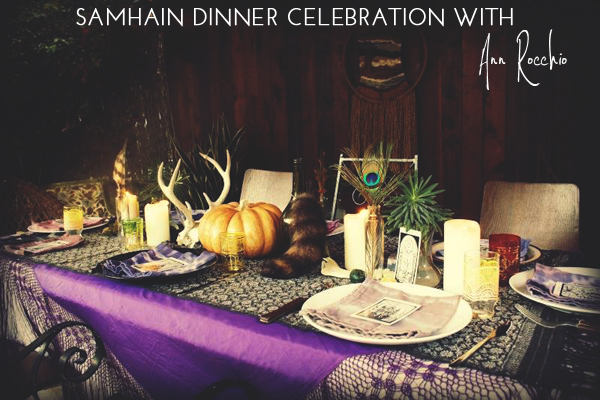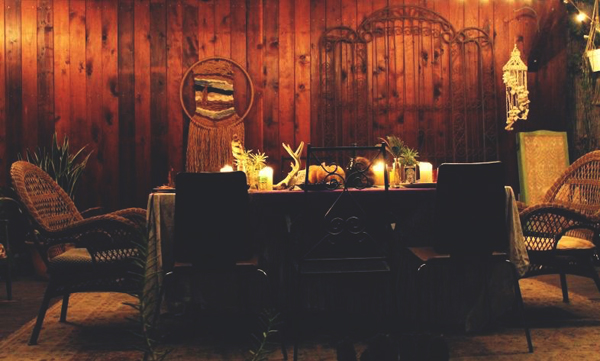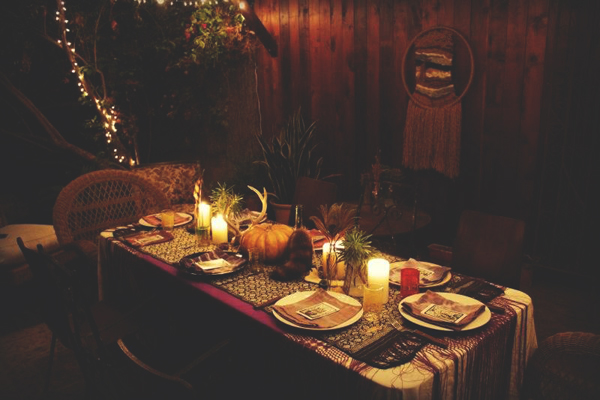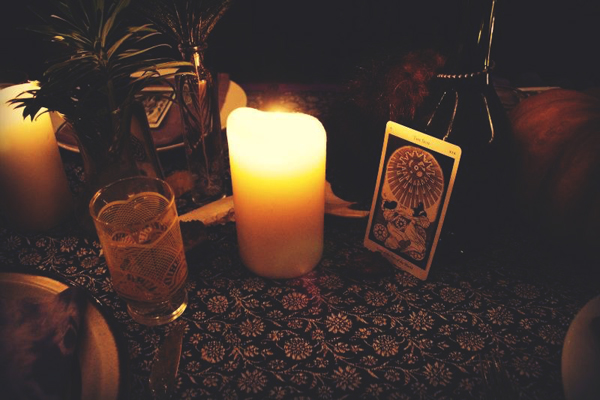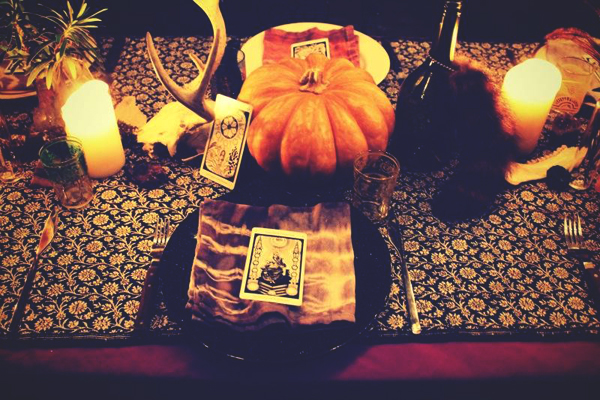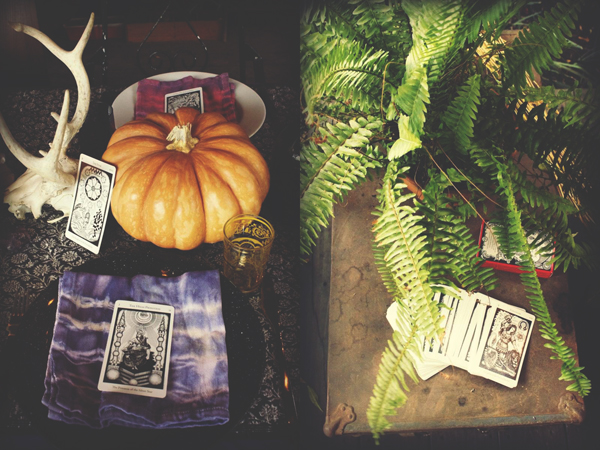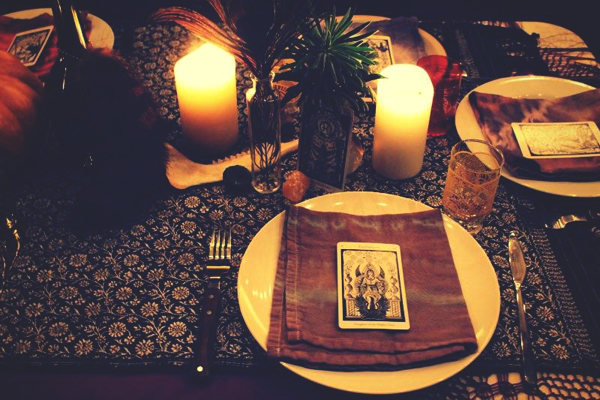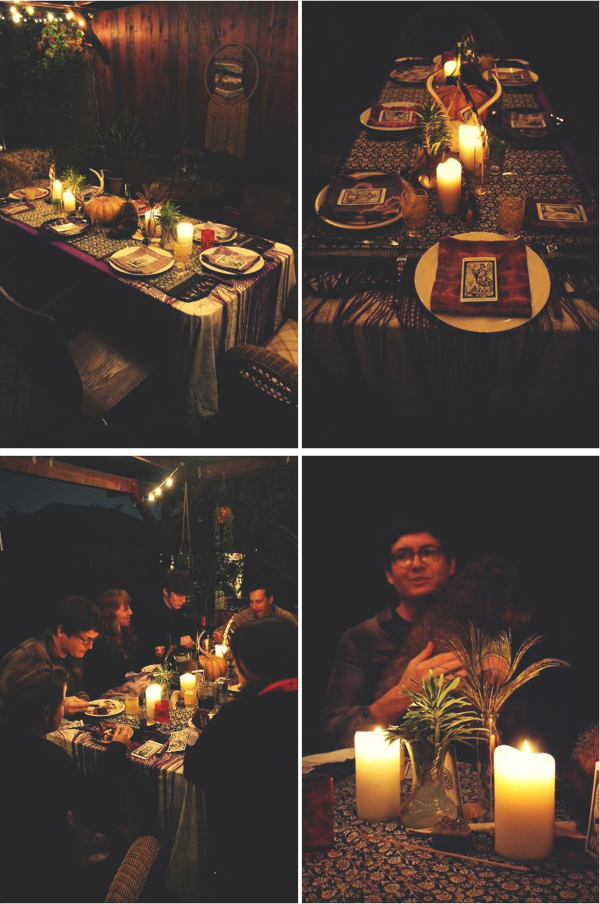 I have never really been one to get into dressing up for Halloween, but I have always loved this time of year. It really does seem like life changes, not just the leaves or the mood, but some sort of major event that I must overcome. Since I am moving out of LA in a week, I wanted to host a small dinner party one last time in the backyard with some of my favorite people. I have been reading a lot lately about pagan and witchcraft and can't seem to stop buying books on the subject. The prevalence and worship of nature in these traditions are the real motive behind my curiosity, as it is inspiring and a reminder of the beauty of our earth and the gifts she gives us. I was inspired to decorate a pagan table display using things from around my house and perhaps to teach some friends about this old holiday. Too often, we forget where our traditions come from.
Samhain, begins on the night of October 31 moving into celebration on November 1, marking the transition from the autumn equinox to winter solstice. To the Celtics, this represented the end of harvest and the transition from the light to dark. The quiet and silence of the dark became a time to reflect on new beginnings. Huge bonfires were burned on hilltops to wipe away the past year, and new hopes were created for the next. It was also a time of hear, for no one could predict what kind of harsh winter awaited them. Families came together to use the rest of the harvest to bake, cure meats, and preserve for the upcoming cold and dark winter months.
Samhain is also a time to reflect on the deceased kinfolk. After much research, I have found many different ideas of what this actually meant. Favorite foods of the deceased were set out for their spirits so that they may revisit their past lives. Carved out turnips were the first jack-o-lanters and were set out with a light to attract these spirits while the scary faces were carved to detour any spirits unwanted or with ill intentions. Apples were buried along roads to guide the spirits home. Boys and girls would also put on disguises and roamed around pretending to be the dead spirits or some say to scare them away. Fairies were feared as it was thought they would come steal people away, so people wore their clothes inside out or carried iron or salt to detour these creatures. Another tradition is noted in Ireland, when a man would wear a white sheet carrying a cow skull while youngsters followed behind blowing into cow horns while they went from door to door. At each door, they would recite versus and the owner of the home was expected to donate for the Samhain feast. Sounds familiar, doesn't it? Once the Christians came to bay, they interpreted these traditions into what we now know as Halloween or All Saints Day.
The feast was often based on the sacrifice of animals and a whole lot of drinking from the harvesting of grain. Obviously, we did not such sacrificing, but I did make beef bourguignon and mashed potatoes. I also made a lemon & parm past for the veggies, a salad with truffle oil, and pumpkin and chocolate shortcake for dessert! Friends contributed as well and brought bread, salad, roasted squash, and a gigantic chocolate cake! We truly feasted on all of this yummy goodness. We also threw back quite a few bottles of wine!
For the table, I used my favorite knick knacks from around the house. Skulls, bones, crystals and gems, feathers, harvested plants from my yard, candles, vintage tablecloths, tie dye napkins from this post, and let's not forget the raccoon tail. At each place setting I set a tarot card. Now, I will admit I do not know much about how to use the tarot cards, and I hope I did not disrespect them in anyway. I just find them so beautiful and mystical and would love to learn more. They were the perfect topic of conversation as we all studied what each card represented together. Somehow they randomly suited each person, without any intention on my part or the patrons choosing their seats.
The moon was so bright this night and I had the perfect view of it for part of the dinner. As I have learned more about this traditional Celtic and pagan holiday, I can understand why this has always been a transitional period in my own life. It has more often than not marked an end to something or a major grievance in my life, sparking the challenge of change and mourning. Fitting, as I say goodbye to my ten years in LA and venture off to a new rural world. One where I seek transformation and new beginnings. The seasons speak to us in ways we forget to recognize. Our ancestors knew how to respect this. Perhaps we all still feel it, we just need to open ourselves up to the idea in this modern world ruled by technology vs. our beloved nature and mother earth.
Thank you kindly to Laura for letting me guest post!
Some of my research was done through:
//
//
PEACE AND LOVE,
of The Bohemian Collective