NATURAL HAND BUTTER DIY BY KATE BELLO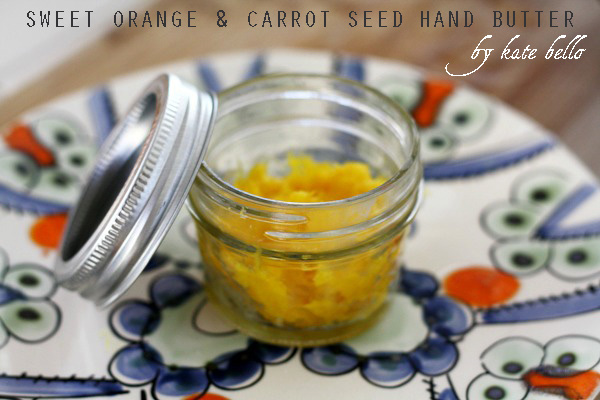 Summer is still a ways away, but this simple yet potent hand butter will bring some brightness to these cold winter months. I'm sure I'm not the only one who has to combat dry skin during this time of the year so I decided to mix some of my favorite oils together to create a deep moisturizing butter. It's very simple to make and can be done in about five minutes. I use this mainly on my hands, but I also sometimes use it on my face and body as well.
My go-to oil for winter is unrefined organic coconut oil and is extremely moisturizing. I personally like it during this time of year because it stays in a solid form while it's cold out. Since I don't like things too complicated and more importantly, in their purest form, coconut oil is the best because it's easy to whip up into a soft body butter with having to heat it.
Carrot seed oil has the most enticing smell and is really beneficial for anti aging (I use it in almost all my facial oils). The aroma of sweet orange essential oil goes perfectly with carrot seed and reminds me of warmer summer days. The secret ingredient in this moisturizer is sea buckthorn oil, which is what actually gives this hand butter its orange color. This oil has many beneficial properties including a high omega fatty acid content which helps rejuvenate damaged skin and protect against wrinkles. I also added pumpkin seed oil, which is also high in omega fatty acids plus vitamins a, c and zinc. And it's amazingly moisturizing oil. Lastly, I used vitamin e oil to naturally preserve the butter.
You can either create a small batch to be used right away or make a jar full to use for a couple of weeks up to a month. I buy all of my oils from mountainroseherbs.com.
Ingredients:
Unrefinded coconut oil
Carrot seed essential oil
Sweet orange essential oil
Sea buckthorn oil
Pumpkin seed oil
Vitamin E oil
Supplies (if making a larger batch)
If you want to make enough to last you a couple weeks or so, I would buy a little mason jar like the one in the photo. I bought a whole box of them at the local hardware store for about $12.00. I would advise against using a plastic container because many of them can leak harmful chemicals.
Directions:
If you're going to be keeping this hand butter in a jar, you will first need to sterilize the jar. This is super easy to do! Just bring a pot of water to a boil, place the jar and the lid (unscrewed) into the water so that it's completely covered. Let it boil for about five minutes and then air dry.
I used about two tablespoons of the coconut oil for this hand butter. Place in a small bowl.
Add just a dash of sea buckthorn oil. Just a word of warning about this oil; because of its orange color it can temporarily stain things so I would stay away from wearing light colored clothes while making this concoction. Also, it may temporarily stain your skin, but absorbs after a couple minutes.
Add three drops of carrot seed essential oil and two drops of sweet orange essential oil.
Add ½ teaspoon of pumpkin seed oil and ¼ of vitamin e oil.
Mix it up in the bowl until it's the consistency of a body butter.
Place in the sterilized jar to use up for up to a month.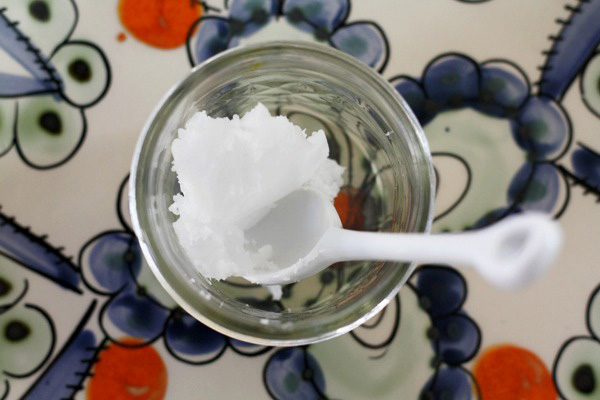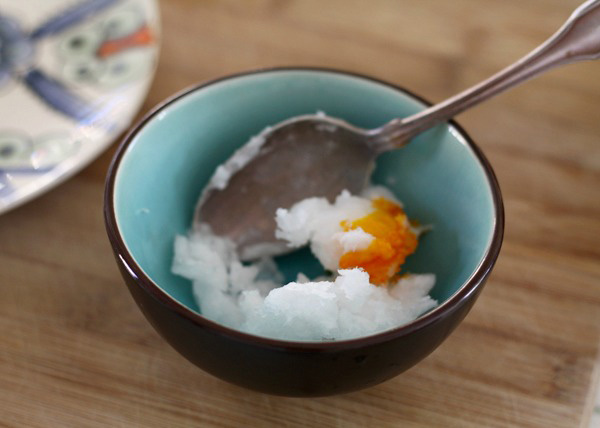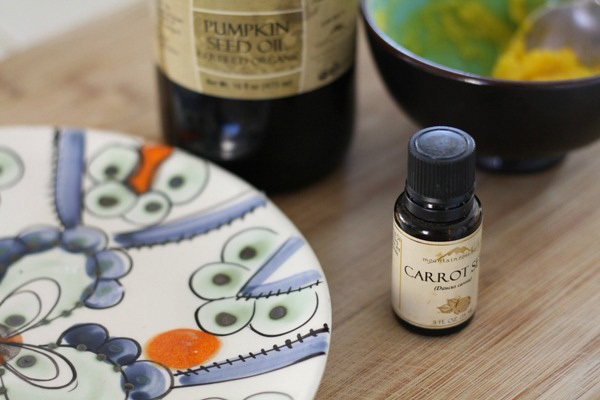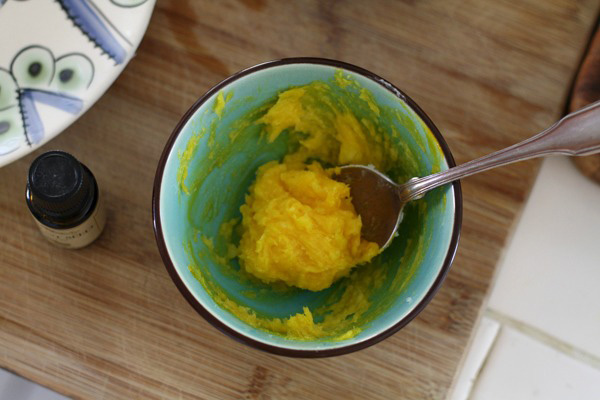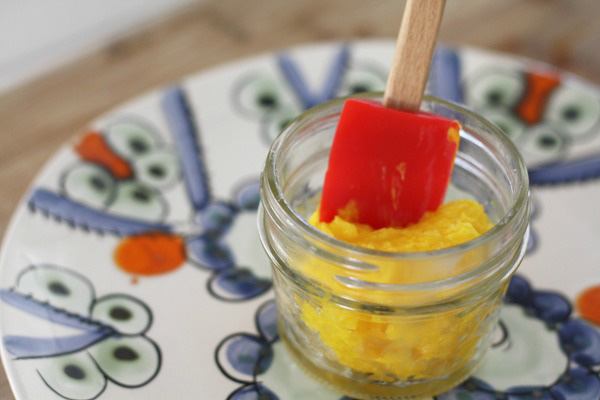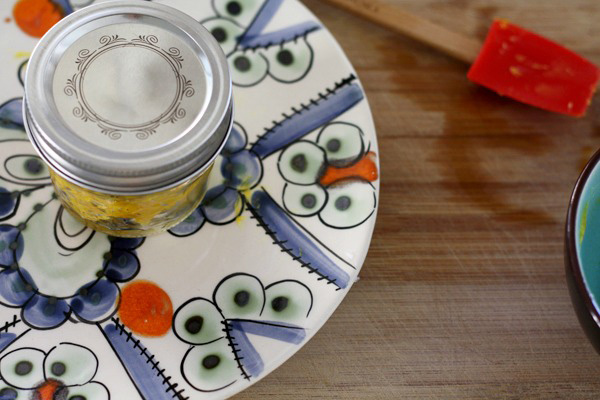 * This hand butter can liquefy when in warm temperatures so if it happens to be warm where you live at the moment (lucky you!), you can keep it in the fridge so it stays solid.
I really, really love this hand butter because it feels so luxurious! A little bit does go a long way so start out using just a tiny bit at a time. For best results, lightly dampen your skin before applying which will help it absorb better. Like I said earlier, I've also tried this as facial moisturizer or body butter and love it. Hope you enjoy it as much as I do!
Guest Post from Kate Bello of
//
//
//